Understanding Lock Functions
Determining which lock function is appropriate for which door can drive a specifier crazy.
As openings become increasingly complex, so too are the options for securing them. A typical manufacturer's catalog can offer upwards of 50 different lock functions, making it difficult or even impossible to remember how each function works. 
Determining which lock function is appropriate for each door is one of the challenges specifiers must deal with, particularly in schools where tragedies like the one at Sandy Hook have renewed controversy over how best to secure classroom doors during a lockdown event. 
Fortunately, the vast majority of locks specified use one of just six mechanical lock functions. That knowledge, combined with a basic understanding of electromechanical locks and a few deadbolt functions, represents a fairly comprehensive understanding of common lock functions. 
Let's begin with an overview of the most common functions for mechanical locks. Note that all of these functions allow free egress at all times.
PASSAGE SETS are used where doors do not need to lock. There is no key cylinder and no means to lock a passage set.
PRIVACY SETS are often used for single-occupant restrooms or dressing rooms. They can be locked from the inside with a thumbturn or push button/turn for privacy, and they are typically unlocked from the outside using a tool rather than a key. There are several variations on this function, including a hospital privacy, which has a thumbturn on both the inside and outside to allow hospital staff quick access to the bathroom. Some privacy functions may also incorporate an indicator to show the locked/unlocked status of the door.
STOREROOM LOCKS are used when the outside lever should remain locked at all times. A key is used to retract the latchbolt and open the door; when the key is removed, the door is locked on the outside. There is no ability to lock or unlock the outside knob or lever from the inside. Typical locations for a storeroom lock are secure storage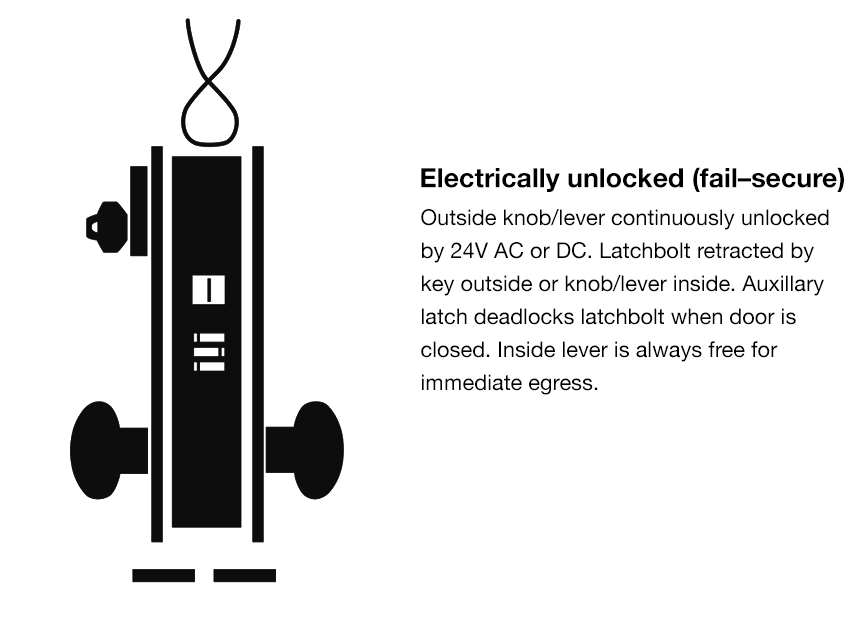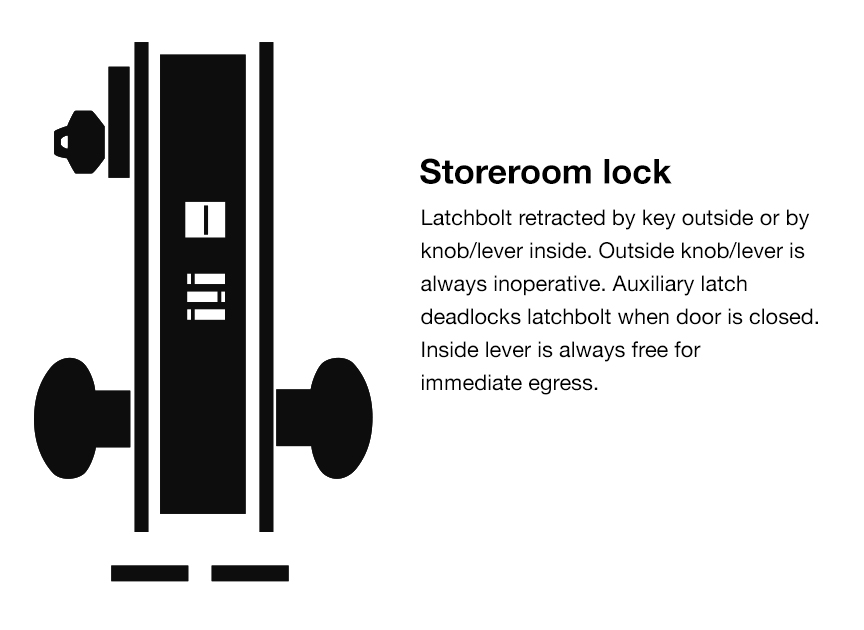 Conclusion
Choosing the appropriate lock function is a vital component of maintaining the balance between life safety and security concerns. If you find yourself unsure as to which of the many options is the right choice for a specific application or if a project requires a different lock function, talk to a door hardware consultant before making a selection. 
Have a question? Talk to someone now by using our contact page!